X-0411 / G-100 Eye Grab Hook
Grade100 Lifting Chain Fittings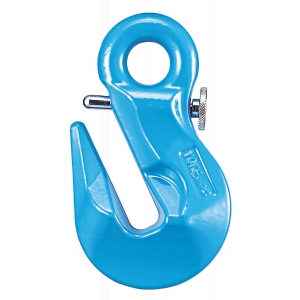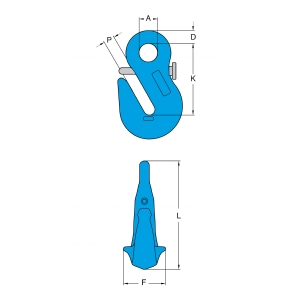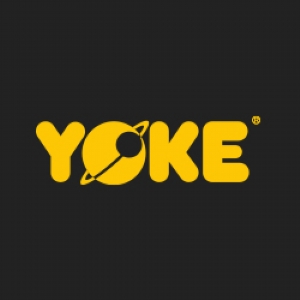 Description
Quenched and Tempered Alloy Steel.&nbsp
&nbspAt least 25% greater WLL than traditional G80 products.&nbsp
&nbspManufactured in accordance with DIN 5692, EN 1677-1 and ASTM A952/A 952M.
Certified by DGUV GS-MO-15-05.&nbsp
&nbspProof Load tested at 2.5 times the WLL with certification for each batch manufactured.&nbsp
&nbspDesign Factor 4:1.
Fatigue rated to 20,000 cycles at 1.5 times the WLL.
Tempering temperature minimum 400¢XC
&nbspNot for use with Omega Link
Enables full WLL while in use, thanks to supporting wings which prevent chain link deformation.
Specification
&nbsp3D file Download
Item No.
Working Load Limit
For Grade 100 Chain (mm)
&nbsp
Dimensions&nbsp(mm)
N.W.
&nbsp
tonnes*

mm

A
D
F
K
&nbspL
P
Kg
&nbsp

X-0411-07

2.5

7, 8

16

11

35

65

98&nbsp

10

0.4

&nbsp

X-0411-10

4.0

10

20

14

46

78

118&nbsp

12

0.7

&nbsp

X-0411-13

6.7

13

26

18

47

113

169&nbsp

18

1.7

&nbsp

&nbsp

¡¹ Design factor 4:1

&nbsp

proof tested and certified.

&nbsp

&nbsp

&nbsp

&nbsp

&nbsp

&nbsp

&nbsp

&nbsp

&nbsp

&nbsp

&nbsp

&nbsp

&nbsp

&nbsp

&nbsp

&nbsp

&nbsp

&nbsp

&nbsp

&nbsp

&nbsp

&nbsp

&nbsp

&nbsp

&nbsp

&nbsp

&nbsp

&nbsp

&nbsp

&nbsp

&nbsp

&nbsp

&nbsp

&nbsp

&nbsp

&nbsp

&nbsp

&nbsp

&nbsp

&nbsp

&nbsp

&nbsp

&nbsp

&nbsp

&nbsp

&nbsp

&nbsp

&nbsp

&nbsp

&nbsp

&nbsp

&nbsp

&nbsp

&nbsp

&nbsp
&nbsp
&nbsp
&nbsp
&nbsp
&nbsp
&nbsp
&nbsp
&nbsp
&nbsp
&nbsp
&nbsp
&nbsp
&nbsp
&nbsp
&nbsp
&nbsp
&nbsp
&nbsp
&nbsp
&nbsp
&nbsp
&nbsp
&nbsp
&nbsp
&nbsp
&nbsp
&nbsp
&nbsp
&nbsp
&nbsp
&nbsp
&nbsp
&nbsp
&nbsp
&nbsp
&nbsp
&nbsp
&nbsp
&nbsp
&nbsp
&nbsp
&nbsp
&nbsp
&nbsp
&nbsp
&nbsp
&nbsp
&nbsp
&nbsp
&nbsp
&nbsp
&nbsp
&nbsp
&nbsp